LiveWhale CMS: Content Management for Storytellers
Trusted by colleges around the world.
LiveWhale is a unique CMS platform designed to help colleges and universities communicate better, with unparalleled ease of use and community content sharing. It's content management for storytellers.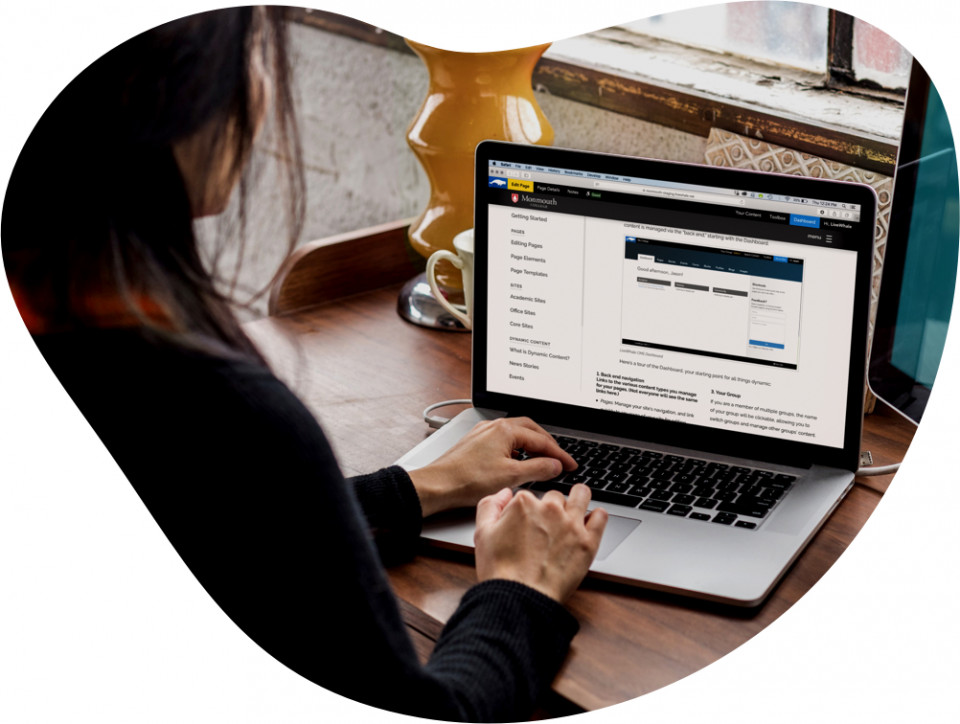 Why Livewhale?
A CMS built for higher ed
LiveWhale is a product of White Whale: a design, strategy, and technology firm that's been working with schools like yours for almost two decades.
We understand colleges, and we know that your community of staff, faculty, and students is key to a successful website. With LiveWhale you can create news, events, images, faculty and student profiles, and more— and make them available throughout your institution. And if you don't have the time to keep a lot of content up to date (imagine that!), it's easy to find and add content from other groups on campus.
All the features you need...
…and a lot more:
In-context page editing
Versioning
User roles and permissions
Accessibility checker
Website search
Custom maps
Galleries
Shared assets library
Forms with spam prevention
Social media integration
Emergency notifications
Embedded video
Event management and RSVPs
Custom content types
Widgets
Tag management
Page notes
SEO friendly
Automated backups
Image optimization
Template permissions
Multi-site management
Backend customization
Secure SSO authentication
AWS cloud hosting
LiveWhale API
Developer community
Building a better .edu
The developers who work with LiveWhale on campuses around the world are a true community, not a faceless crowd.  We work closely with our clients to continuously improve our codebase. 50% of new features come directly from client requests.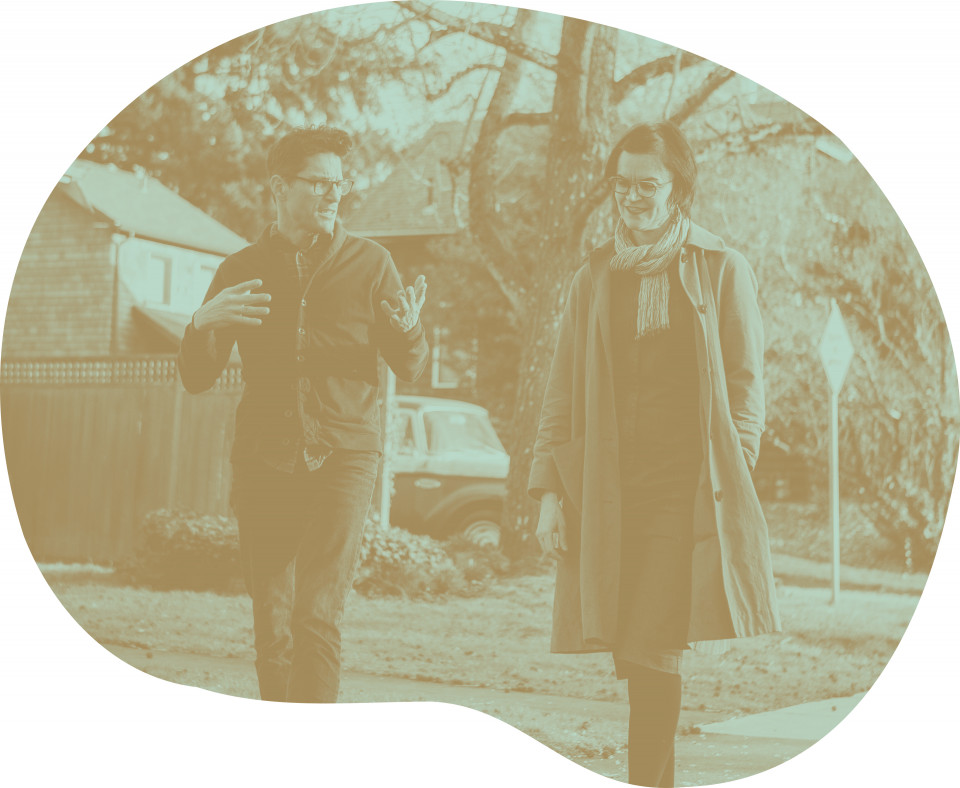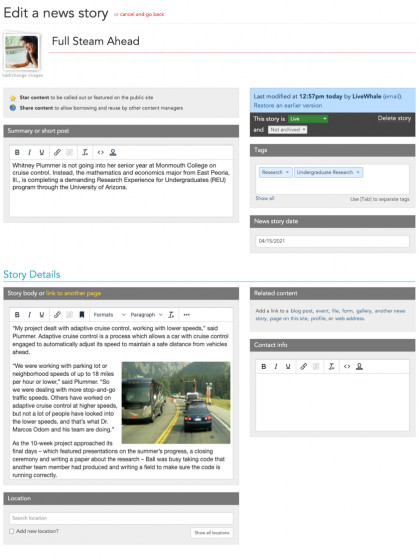 Free upgrades and tech support for life.
Since all our clients are on the same version, the improvements we make to our codebase can be shared with everyone. That's why upgrades to LiveWhale are always free.
The same goes for tech support. If you're having a hard time using our system, that's our problem too, and we want to hear about it. So every LiveWhale account comes with unlimited e-mail tech support.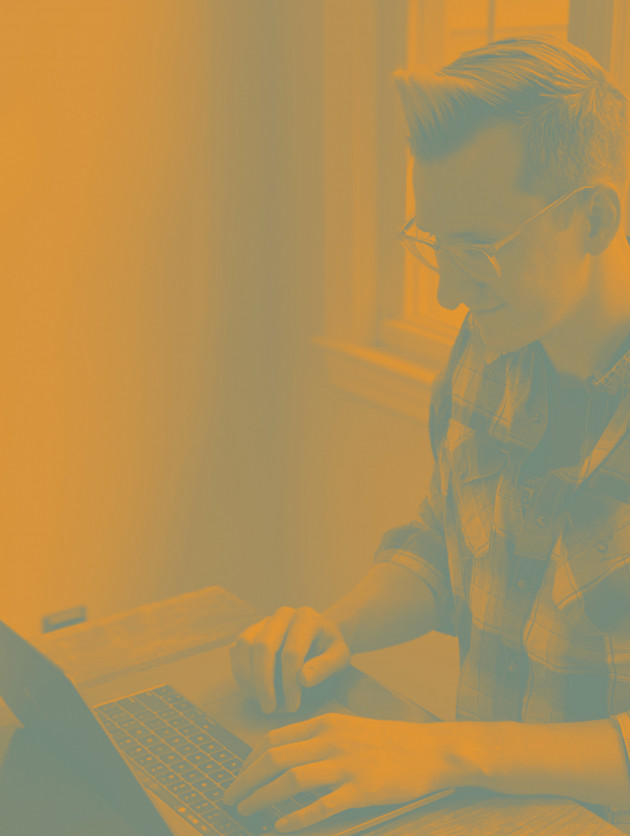 FAQs
Do you offer hosting?

Yes! We have secure, robust hosting fine-tuned for LiveWhale that we offer through Amazon Web Services. It's highly-available with a 99.9% uptime guarantee, redundant, and includes nightly backups just in case. Let us worry about server updates, security packages, and the rest so you can focus on making your site awesome.

Can we use single-sign-on? (Active Directory, LDAP, Shibboleth, SAML, CAS, Google)

Yes! We'll help you set up single-sign-on for LiveWhale so none of your users need to remember a separate password. You can also use this connection to do neat things like allow all faculty to edit their own profiles, or make certain pages/sections of your site available only to members of your college community.

Do you have an API?

Absolutely – and our small-but-mighty developer community uses it for all sorts of things. Whether you need an RSS, iCAL, or JSON feed of particular LiveWhale data or you want to build your own custom LiveWhale integration, we've got the tools and the skills to help.
80+ Clients, 100% Satisfied
Our clients love using our software. Our business is making your (work) lives easier.
Adams State University
Adelphi University
Alma College
Angelo State University
Arkansas State University
Barcelona Graduate School of Economics
Beloit College
Bemidji State
Brown University
Bucknell University
Carondelet High School
Carthage College
Century College
Colby College
College of the Atlantic
D'Youville College
Eastern Florida State College
Emory & Henry College
Florida Institute of Technology
Georgetown University Alumni
Henderson State University
Indiana University
Lewis & Clark College
Louisiana Tech University
Marian University
Marlboro College
Menlo School
Merrimack College
Marymount Manhattan College
Monmouth College
Morehead State University
Mt. San Antonio College
Northeastern University Giving
New York University
NYU Abu Dhabi
NYU Shanghai
Oakland University
Our Lady of Lourdes School
Penn Medicine: University of Pennsylvania Health System
Purchase College (SUNY)
Radford University
Rice University
Roosevelt University
Rutgers Law School
Santa Clara University
San Francisco School
Seton Hall University
Simon Fraser University
Shattuck-St. Mary's School
Southern Connecticut State University
Southwestern University
SUNY Brockport
Susquehanna University
Syracuse Architecture
Texas A&M University
Texas A&M, Corpus Christi
Tarleton State University
Temple College
Temple University Beasley School of Law
Trinity College
University of Akron
University of Arkansas Medical Sciences
University of Calgary
University of Florida
University of Houston
University of Louisiana, Lafayette
University of Louisiana, Monroe
University of Minnesota, Duluth
University of Minnesota, Twin Cities
University of Missouri, Kansas City
University of Melbourne
University of Oklahoma
University of Pennsylvania Law School
University of Pennsylvania School of Nursing
University of Victoria
University of Wisconsin, Eau Claire
Ursinus College
Vanderbilt University
Virginia Military Institute
West Hills Community College
Western Oregon University
York University, Schulich School of Business
We Have Your Back
We're a responsive, efficient, enthusiastic team of creative problem solvers working from home offices in Oregon, California, New York, and Michigan.
Ismail Youngblood

Marketing Manager

Ismail is an experienced and meticulous organizer of information. In addition to managing White Whale's virtual office, he also serves as the primary liaison with prospective LiveWhale Calendar customers. Ismail lives in Oakland with his wife and young daughter, whose entry into daycare made it possible for him to join our team.

Naomi Royall

Senior Frontend Developer

Naomi enjoys collaborating closely with designers to create elegant, versatile websites. At White Whale, she leads the buildout of our site designs and works to move LiveWhale's feature set forward. Naomi is British – she moved to Berkeley to study Astrophysics and stayed in California. Outside of coding, she enjoys running, climbing and mountain camping trips.

Isaac McGowan

Senior Developer

Isaac writes front-end code for the LiveWhale CMS, assists with other CMS implementations, and backs up our UI development team. He has developed and managed web applications since 1999, working on corporate teams as well as individually. Isaac lives in San Rafael with his wife and sons; his non-code interests include surfing, capoeira, and burritos.

Karl Hinze

Director of Support

Karl is all about bringing people together to make beautiful things. Besides being a designer and programmer in his own right, Karl also has extensive experience in higher ed as a student, faculty, and staff member. Outside of White Whale, Karl is a musical theatre composer, where he continues to feed his love of collaboration, art, and storytelling.

Sacha Webley

Senior Designer

As the lead designer for White Whale, Sacha works with clients to shape beautiful and usable experiences for the web. Born and raised in Oregon, Sacha left the state to study at Stanford University, where he received a BA in Art and Art History. A father of three small children, he now lives on a farm outside of Portland with his family, chickens, cat, books and oil painting studio.

Katie Compo

Project Manager

A compulsive list maker and professional organizer, it's Katie's job to shepherd projects from start to finish. She makes sure everything is on track and everyone is happy. In her free time, you can find Katie with a camera around her neck, enjoying the outdoors or renovating her 100-year-old house. She lives in the small town of Alma, Michigan with her husband and dog.

Jason Pontius

President

A pathological multitasker, Jason is involved in every aspect of the website development process – from collaborating with our senior designer on design work to overseeing the care and feeding of the LiveWhale CMS. Jason first began exploring interactive design in 1997 as a complement to his graduate study in linguistics at the University of Chicago (where he holds a master's degree).

Tonya Langford Moyle

Vice President

On top of managing White Whale's business affairs, Tonya works with clients on top-level branding and communications strategy – helping them get past organizational roadblocks and find ways to present web content to make sense to their multiple audiences. Raised in small-town Wisconsin, she headed east to attend Wellesley and then Brown, and then west to Portland, OR where she juggles work, kids, chickens, and a side-gig making napkins for her sister's restaurant.

Alex Romanovich

Technical Director

Alex has been indispensable to White Whale since its inception, becoming a permanent full-time employee in 2004 and taking the lead in the development of LiveWhale, our content management system. He is a graduate of NYU's film and psychology programs, an active writer and photographer, and a student of metaphysics.