The LiveWhale back-end has a fresh, updated look, including new fonts and colors!
The main changes you'll notice are to the toolbar: the new Toolbox dropdown contains your libraries as well as curator/admin superpowers.
And, when you're on the front end, the Your Content dropdown lets you immediately reach your pages, news, events, etc. without having to go first to the Dashboard.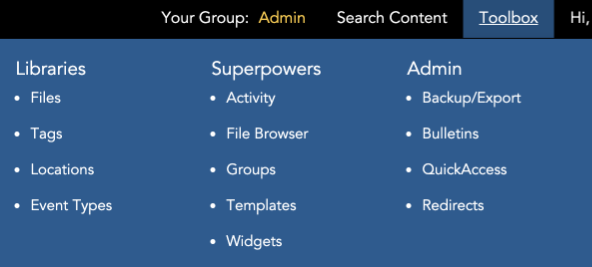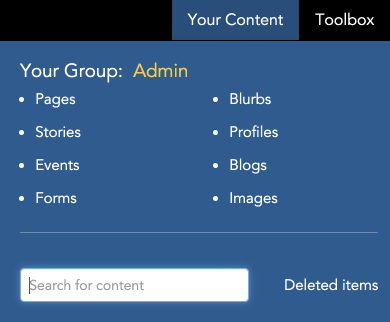 We all know it: making accessible websites and using accessible tools is more important than ever. With LiveWhale 1.7 we have taken huge strides towards ensuring that your site visitors and editors have the smoothest, most inclusive experience possible. 
Out-of-the-box calendar templates now contain 0 WAVE Errors and are 100% WCAG 2.0/Section 508 compliant
WCAG 2.0 AA


LiveWhale Calendar: back-end is now 100% compliant: at least according to our latest tests! If you notice anything we've missed, please reach out.
LiveWhale CMS: back-end interfaces are 95%+ compliant: some complex interfaces like the drag-and-drop navigation editor and certain tools in the widget editor may not be fully compliant; it's on our list to work on those next, and please reach out if you have particular questions or feedback about this project (or if you'd like to be a beta-tester!).

Keyboard and screen-reader navigability (tested with JAWS for Windows and VoiceOver for Mac)


Core calendar front-end templates now have proper tab order and allows focus of all key elements. Aria roles have also been added for navigation.
Date fields now provide the necessary format (MM/DD/YYYY) for keyboard and screen-reader users, allowing them to bypass the mouse-only datepicker
Subscribe modal (and all modal menus) are now keyboard navigable, and allow you to exit and return to your earlier cursor focus with the Escape key.
Calendar search and event type filters now receive an automatic "Skip to results" link as the next tab item when interacted with. (After testing, we determined this was our preferred way to assist screen-reader users in finding updated events listings, rather than using aria-live.)
Mini-cal is now keyboard and screen-reader navigable using the arrow keys and Enter to pick a date:
New back-end filter: Search for images without captions (if they had been uploaded before the decorative-image option was added)

Customer Request

New user permission: Upload files 

Customer Request

This user permission lets you enable/disable the uploading of PDF and Word documents to LiveWhale (enabled by default) so you can grant it selectively to editors who have been trained in creating accessible PDFs.

Empty headers h1–h6 are now converted to empty paragraph tags on save, to preserve visual spacing as much as possible while avoiding "empty header" accessibility errors.

Customer Request
Of course, it takes a village to make a website, and a CMS is no different! As you use LiveWhale, please don't hesitate to reach out with accessibility questions or concerns. We're always going to do our best to keep up with the evolving standards in our field, and if you ever see an area where we're falling short, let us know!
Note: Use of non-modular template components is no longer supported in the frontend calendar. Please migrate to modular components as part of the upgrade process. Follow these instructions to migrate to modular components, or contact support@livewhale.com for assistance.
Note: Some of your theming might need to be adjusted to account for accessibility improvements to Livewhale 1.7. For instance, in the forms module, we now correctly wrap radio button and checkboxes in their own labels, rather than adding the label to the question before—so, to make your forms look the same as 1.6.2 and earlier, you could update your theming to give div.lw_forms_label the same styling as the other label element.
Note: The /live/json/* endpoints now denote tags as an array, rather than a comma separated string. This may require updating applications using these endpoints.
Note: If you had previously customized your email template at /livewhale/client/modules/messages/includes/email_template.html, we recommend migrating that to the new /_ingredients/notifications/ setup [docs].
Note: The template manager now auto-discovers templates added/removed/modified inside /_ingredients/templates. Starting with LiveWhale 1.7, new templates will only be available under that directory (or subdirectories therein). Existing templates outside of this directory will be supported until they are unflagged as templates. [docs]
Note: If you are using the custom client profiles_template app, that functionality is now native in 1.7, you may migrate to the new settings and then remove the custom module. [docs]
If you host your own site: LiveWhale now requires a minimum version of PHP 5.5 (7.2 recommended) and MySQL 5.1 for operation. [docs and all system requirements]
The LiveWhale team will be systematically updating all of your dev servers to the latest version shortly (please let us know if you need us to wait to upgrade your dev server for any reason, if you're actively developing something for instance).
Once your dev server is upgraded, you can review your site there for any client-specific code (themes, modules, or other customizations) that might need to be updated to work with the new version. Then we can schedule your production server upgrade once that testing is complete.
If you don't have a dev server, please reach out to support@livewhale.com about getting one set up.