LiveWhale Calendar
Web calendaring for colleges, universities, and you.
Come visit the new home of LiveWhale Calendar on the web:
(We'll send you over there in a few seconds.)
Lots of colleges and universities have great websites.
How come so few of them have great calendars?
We think we know the answer.  But more importantly, we have a solution.  LiveWhale Calendar is a full-featured calendaring solution, built specifically for higher education.  It's an affordable, flexible, robust system designed to make it easy for staff, faculty, students and alumni to post, share, and promote their events.
LiveWhale Calendar is a calendar and event platform that integrates with existing site design and architecture to allow users to quickly and easily plan and schedule events, reserve rooms and accept online payments. Included with LiveWhale CMS and LiveWhale One, LiveWhale Calendar is also available as a standalone product for colleges and universities seeking a more flexible alternative to standard calendar and event management platforms.
Like LiveWhale CMS, LiveWhale Calendar includes full access to application source code with hooks, APIs and a fully documented process for customization. 
Building a Calendar that Doesn't Suck
Download Jason's HighEdWeb presentation from last year:
Selected features
Publish events to any website hosted on any platform
Integrates with the tools you're already using: EMS, R25, Google Calendar, etc.
Built in e-commerce for paid event registrations
Works great right out of the box, or customize to your heart's content (with or without our staff's help)
Unlimited users, groups, and calendars

Full time zone support, with settings for both event publishers and front end calendar users
Add images, video, downloadable files, and other related content to your events (even if they come from external feeds)
Support for RSS and ICAL importing and exporting (subscription)
Design customization to match your current site
Unlimited email technical support

 

 

Built-in geolocation allows your users to put their events on the map
Share calendar events to Twitter, Facebook, and the social networks of your choice
Responsive design for mobile phones
Beautiful front end interface makes browsing your events a joy for users
Free, managed software upgrades
See LiveWhale Calendar in action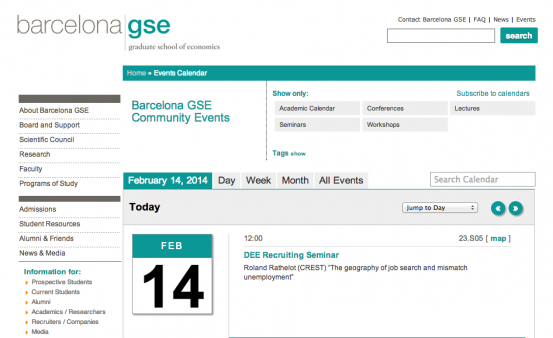 Barcelona Graduate School of Economics
events.barcelonagse.eu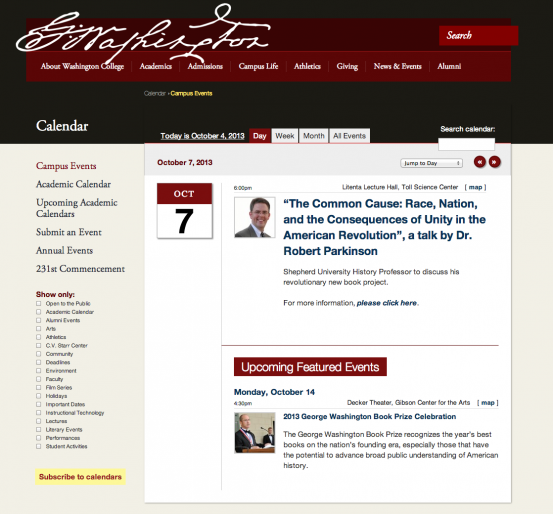 Washington College
washcoll.edu/calendar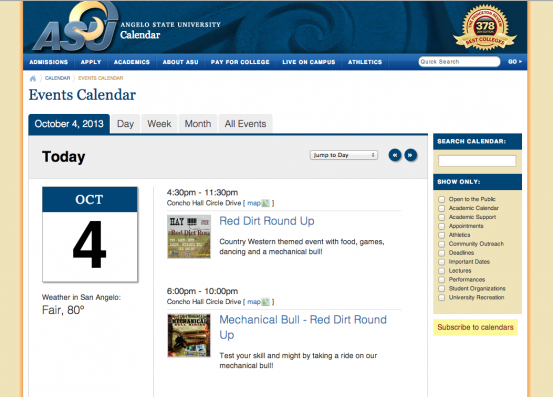 Angelo State University
www.angelo.edu/events/calendar.php